About PIC
Packaging Industries Company Ltd. (PIC) is a privately owned Jordanian company that specializes in manufacturing, converting and printing flexible packaging material of premium quality. Part of NuqulGroup, PIC serves local and regional clients with a yearly capacity exceeding 6,000 tons. The success and constant development of PIC has mounted from one peak to the next over the past three decades, positioning the company as an industry leader with wide recognition across the Levant area.

Our relationship with customers mainly operates in a B2B "Business to Business" manner, as a solution provider with great emphasis on utilizing creative packaging as a fundamental marketing tool for their products. It caters to a spectrum of sectors including food, home care, personal care, pharmaceuticals and decorative packaging among others. Hence clients benefit from PIC as a one-stop-shop, with complete integrated packaging solutions that come to life through the latest technologies, supreme quality control, and genuine customer care. PIC treats its clients as long-term partners, strongly believing that the success of the customer will simultaneously transpire through the success of the company.

In line with PIC's philosophy of providing firsthand customer care to its export market, the Company has appointed trusted agents across the region to simplify the business process, and minimize distances through an added value face-to-face service, fostering a trusted relationship between customers and agents.

Inte ally, the Company's packaging design department produces designs for all types of packaging, while closely considering the products' promotion, market position, and performance in every step of the design process. In all its productions, PIC combines essential marketing aesthetics with top functionality, in tu distinguishing PIC's clients well apart from their competition.

Staffed with 180 seasoned employees and counting, PIC appreciates the true value of investing in high caliber, believing that quality ripples inside-outside. This focus on excellence comes to light throughout the Company - from its staff and service to its state-of-the-art facilities and final products
Our Mission
At Packaging Industries Company we specialized in flexographic and rotogravure printing of flexible packaging materials, providing our customers with high quality packaging through utilizing the latest machinery and materials.We will retain our competitive edge on printing by investing heavily in our human resources, maximizing on being a national company, and servicing our communities in a professional and responsible manner. We will continue to pursue excellence by adding value to all our stakeholders through expanding our business in all different flexible packaging materials and products.
Our Vision
PIC aims to be a leading regional converter in a variety of packaging materials, ultimately becoming known as a one-stop-shop for flexible packaging while setting the standards for environmentally-friendly systems and products.
History Timeline
1979:

Nuqul & Salem Company was established.

1987:

PIC was established.

1993:

"Nuqul & Salem" was renamed UGP (United Group Plastics).

1997:

UGP moved its facilities from Ein Al Basha to its built headquarters in Sahab.

2010:

UGP merged under the unified name of PIC, another daughter company of Nuqul Group.
Flexible Packaging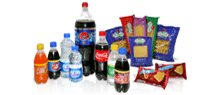 PIC specializes in flexographic and rotogravure printing of flexible packaging materials, used to produce high quality products with a reduced cost advantage ...
Read more
Plastic Products

Designed up to world standards, the plastic division consists of numerous injection molding and blow molding machines serving customers in need of plastic products ...
Read more
Retail & PIC Brands

With the extensive technology and in house expertise, PIC has positioned itself in the B2C "Business to Consumer" market through its registered trademark known as ...
Read more